Resin Art Kit, Materials and Supplies For Beginners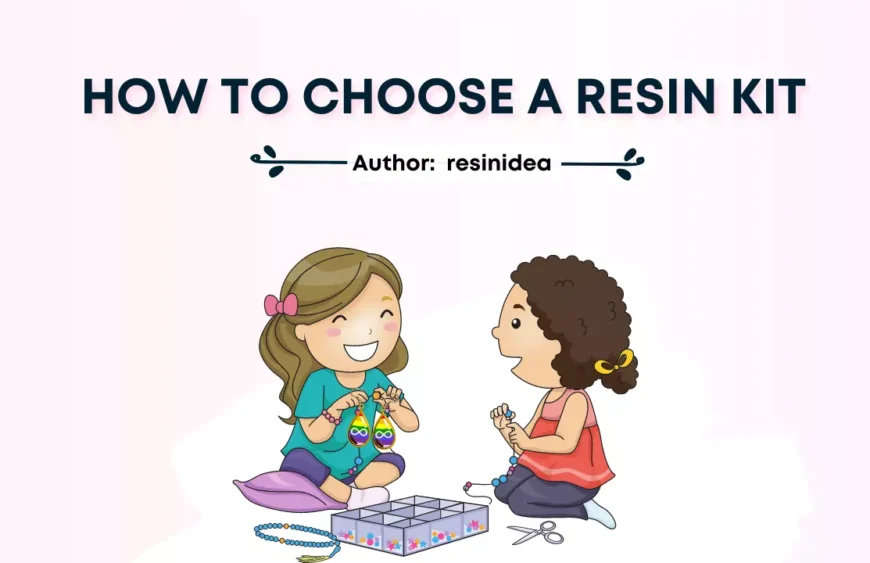 If you know resin art, then it's time to choose a perfect resin kit. As we mention in our earlier blog posts, doing resin art as a small business, hobby, or for fun is not affordable. Beginner Resin Artists must have a kit, below discussed are the best materials and supplies for an ideal resin art kit.
Often people lack in making an ideal resin art kit. Eventually, they end up spending a lot of money. As a result, their products are not up to the mark, and day by day lose interest. Lack of ideas, plans, and the improper use of tools may affect your quality and productivity.
In this blog post, you will be able to learn about resin art tools, kits, supplies, and required materials to start your resin journey. Let's dive in and check out the ideal resin toolkit for your purpose.
What is a Resin Art Kit?
As the name suggests kits, so to make resin designs, paintings, tables, bookmarks, and other respective products we need different materials. The collective form of the various tools forms a resin art kit. These include resin, hardeners, acrylic paints, alcoholic inks, pigments, and quality chemicals. The use of the proper kit can boost your productivity.
In the market, many brands sell resin kits which mainly include a resin and a hardener. Well if you are a beginner, that's not enough for you. To get going you must have more resin art materials and supplies. Let's deep dive into the matter.
The price of a beginner resin art kit can range from 20$ to 60$. In this price range, we can get a good DIY kit with many molds and tools.
Why do an Epoxy Resin Kit?
The use of a resin kit can be a great way to get creative. Have fun while making something that you can show off to your friends and family.
There are many reasons why you should use a resin kit for your next project.
1) You don't need any prior experience: Resin kits do not require any previous experience to make resin products. All you need is the kit, some time, and some patience.
2) They are affordable: Resin kits are very affordable and usually cost less than $25 on average.
3) Improve Product Quality: The use of proper toolkits for creating resin products assure your production quality. You can work on the right path and framework.
4) Boosts your productivity: Being creative is good but if you plan to scale your business then you must switch to molds and kits. They simply increase your production and save time as well as inventory.
5) They make great gifts: If you want to give someone a gift that they will enjoy. The use of regular resin kits and molds will develop an interest in art & craft!
Buying Guide for Resin Kit and Materials
If you are a beginner to epoxy art and wondering which resin material sets to start. An ideal kit for resin art then there are many checklists it should pass with. It must be affordable firstly and lastly as most artists start as a beginner.
Check the following materials that are easy to use and budget-friendly. Create stunning products easily and make business. Here are essential materials and resin supplies to start a resin business in 2022.
1. Quality and Type of Resin
In the market, you get various types of resins and they come up with different qualities. Most beginners are not able to choose the best quality and type of resin for them. Before buying a resin kit, you must be very clear about your purpose. If need resin for craft then you must choose epoxy resin.
As epoxy resin comes with hardening properties, is easy to use, less toxic, and dries up faster. So that you can create hard and high-gloss products.
2. Quantity
Quantity is also equally important and plays a vital role, again it depends on what kind of product you want to create. If you aim to make big products like a river table or ocean table then you must go a gallon. You can also buy a small bottle pack if you plan to work on tiny and creative projects.
3. Tools and Accessories
As often buy snacks online, but some of us forget to add cutleries. The same is the case for Resin Kit. Before buying a kit, make sure they also provide essential mixing tools, cups, and a proper user guide.
Try to include these materials to build a strong kit as a beginner. These accessories are enough to make all resin designs. We can create some fantastic products with those supplies. If you are in hurry then we have mentioned the best brands for the resin art kits below. Quickly check them out.
Types of Epoxy Resin Art Kits
There are many varieties of kits present in the online market. There is no specific kit for different segments of resin artists. However, some brands do a grouping of resin materials and sell them as a kit. It depends on whether you are a beginner, or what kind of product you gonna make.
We have categorized some suitable resin materials as a kit that will help you out. Choose the best one according to your preferences. If you consider buying a resin kit for your hobby then we reckon you to go with a beginner kit.
Casting and Coating Kits
Casting resins are thicker and used to create a base or filling. They take a bit longer to dry as they are from a core if we use them in large projects. Whereas coating resins are more consistent and dry up faster. Overall we have full control over coating resins. Which are the best casting and coating resin kits you should purchase?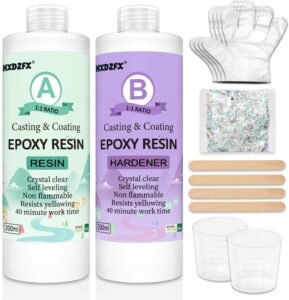 Epoxy Resin Clear Crystal Coating Kit Casting Resin for Art
High gloss and highly curable.
Anti-scratch.
Hand-made pigments.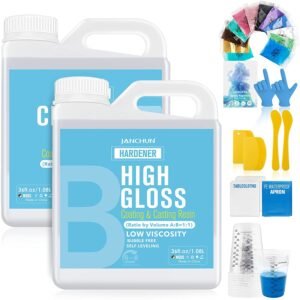 72oz Crystal Clear Epoxy Resin Kit Casting and Coating
Safe for confident use.
100% Customer support

.

Affordable & beginner-friendly.
Less curing time.
Mold kits
Resin mold is a very easy way to create cool resin products. There are several mold kits for different categories. Here are some molds which you should look to use, as they allow versatility in your production.
Decoration Molds
Letter Molds
Beginner Kit
Coaster Molds
Jewelry Molds
Keychain Molds
Dish&Box Mold
Colors and Pigment Kits
In resin art and craft, colors and pigments are the backbones of any designed product. It depends on what kind of project you work on. For beginners, there are some acrylic colors, glitter, and sprinkler kits that they can start from.
Other than these you can also use gel and paste resin pigments in your project to enhance the look. Here are some colors, dyes, gel, paste, and powder kits designed specifically for resin artists.
Best Resin Kits to Buy in 2022
Whether you are a beginner or a pro artist, you can't afford to dilution in your product quality. As a beginner, we also need to trust a brand that provides the best resin kit at an affordable price tag. So, friends, we have compared some of the top 5 best brands for resin art on amazon.
There are so many mini and mega brands that provide resin kits all over the world. Initially try finding them at your local stores, if you can get then go for the kits listed below (according to your country).
Best Seller
India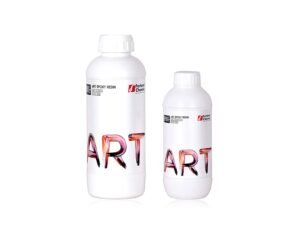 Epoke Crystal Clear Epoxy Art Resin Kit (300gms)
High gloss, non-yellowing.
Bubble-free, crystal clear.
Self-leveling resin for art.
Made in India, best for beginners.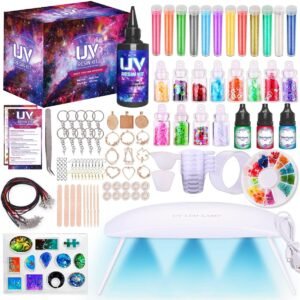 Epoxy Resin Kit for Beginners – Silicone Molds UV Light Clear Casting DIY Kits
Beginner-friendly for DIY
Easy to use frames and molds.
Nontoxic and durable.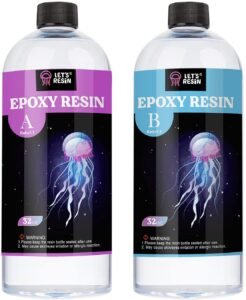 Bubbles-Free Resin Best for jewelry making
Crystal clear resin.
Low odor and best quality.
Use for tabletop and casting.
Which are the best resin kit brands?
Well, the resin art industry is on a boom. Every social media is full of tons of resin DIY videos, ideas, and products. In the same way, you come across many resin brands. Beginners must go with local vendors and if are serious to make resin as a business then you must check out some products at Resinidea.com
How to buy cheap resin kits?
If you consider a hobby resin kit, then you must check out your local stores. We have explained in brief what is the best resin kit for beginners. Do consider buying a good quality, as everyone loves quality resin products. The outcome must be clear, transparent, hard, glossy, and smooth. There are much more qualities that advanced artists can seek.
Which are the best resin art kits in India?
So many new brands are being launched day by day. All of them bring a different selling point and quality. Some of the brands like ArtResin, Letsresin, and Haksons are popular in the market and doing well.
Conclusion: Best Resin Kits and Supplies
Well, we discussed enough types of kits, materials,s and resin supplies. Surely they are enough for a beginner. Try to make a strong kit by adding more tiny molds, glitters, beautiful colors, and more. Sometimes the kit depends on the requirements of our projects, people make their custom kits for more productivity.
In the future, we will also be sharing secret tips from various best resin artists around the globe. Stay tuned, if you have any suggestions then please do comment below. We will be deep-diving into what are tools used in resin art in the next blog post.